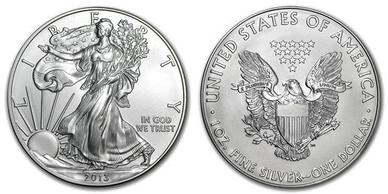 Released in 1986, the American Silver Eagle coin is America's only official investment-grade silver bullion coin. It is also the world's only silver bullion coin whose weight, content, and purity are guaranteed by the government of the United States. The American Silver Eagle has a face value of one dollar and contains one troy ounce of 99.9% pure silver.
Considered some of the most beautiful coins ever minted, Silver Eagles are among the finest silver coins issued by the United States. The obverse of the Silver Eagle coin depicts the Walking Liberty design created by Adolph A. Weinman which was also used on the Walking Liberty Half Dollar coins issued from 1916 to 1947. This image is one of the most cherished and well-known designs ever to grace coins minted by the United States. The reverse side of the American Silver Eagle coin is just as impressive, featuring an American eagle - the very symbol of our nation's freedom, patriotism, and pride.
Besides their stunning designs, the Silver Eagle coins also appeal to collectors and investors for their value in investment portfolios. Eligible for placement in IRAs, Silver Eagles can act as building blocks for investments that will never lose all of their value.
Morgan Silver Dollars were minted from 1878 to 1921 with silver from the Comstock Lode in Nevada. These hefty 90% silver coins contain nearly an ounce of the precious metal and over the years have become the most popular coins for serious collectors in America! You can collect them by year, by mint, or undertake the collecting quest of a lifetime--get one from every date and mint! When you're done you'll have one of the most coveted coin collections in the world!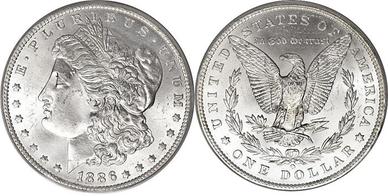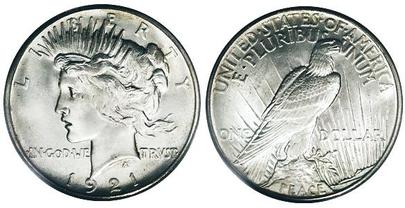 Under the Pittman Act in 1918, millions of Morgan Silver dollars were melted in to pay for World War One. One provision of the Act was that after the war, silver dollars were to be minted again. In 1921, the Peace Dollar was designed and struck. These were the last large silver dollars minted for circulation and production ceased after 1935. We offer individual Peace Dollars in circulated condition.
Silver also comes in privately minted coins (rounds) and silver bars in various designs. The rounds are minted in 1oz and the bars come in 1oz to 100oz size. Silver rounds or bars of any size are an excellent way to invest in pure silver while avoiding the premiums usually found on legal tender bullion coins.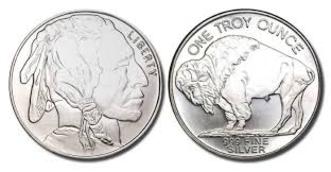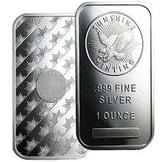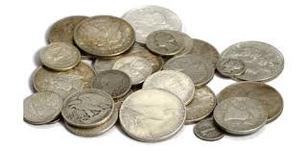 Junk Silver Coins" is a term used to describe common USA coins that are made from 90% Silver. They are a mix of Dimes, Quarters, and Half Dollars made until 1964. Mainly sold in BULK lots by the face value, they contain .715 ounces of silver per dollar!!!
Example: 4 old 1964 quarters = .715 ounces of silver. They come in full bags ($1000 face), half bags ($500 face) and quarter bags ($250 face). Their price is determined by the spot price of silver.