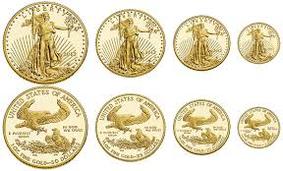 These official legal tender gold coins, first released in 1986, are minted and guaranteed by the U.S. Government as to weight and purity. The obverse of each coin bears a modified Augustus Saint Gaudens design of Liberty with the reverse featuring a "family of eagles" design. These coins are . 9167 pure gold and are the most popular gold coin the world.
These gold coins were first mass-produced in 1970 out of South Africa. They contain .9166 fine gold and are struck on the obverse side by a picture of Paul Kruger, President of the original South African Republic, and a photo of the springbok(a South African antelope) on the reverse side.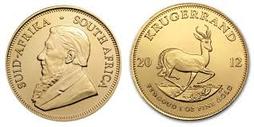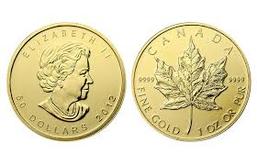 These official legal tender gold coins are minted in .999 solid gold and guaranteed by the Royal Canadian Mint as to weight and purity. These coins are struck with a Canadian maple leaf on the obverse and a portrait of Queen Elizabeth 11 on the reverse.
Production the American Buffalo 24-karat gold coins were authorized by Public Law 109-145, dated December 22, 2005, also known as the Presidential $1 Coin Act.The American Buffalo Gold coin's obverse and reverse designs feature images originally prepared by noted American sculptor James Earle Fraser, once a student of Augustus Saint-Gaudens, for America's 5-cent coin (nickel).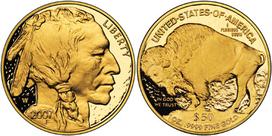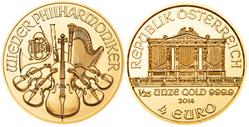 The gold Vienna Philharmonic was first offered on October 10, 1989. Initially, it was minted in only two sizes: one troy ounce as well as a quarter ounce. The Vienna Philharmonic, often shortened Philharmonic, is a bullion coin of gold or silver produced by the Austrian Mint (Münze Österreich AG).
These official legal tender gold coins, first released in 1982, are minted in .999 solid gold by the China Mint. The obverse side is changed yearly, but it always features the endangered giant panda. The reverse side always staying the same, bearing the image of China's "Temple of Heaven" in Beijing. The first British Sovereign was minted under Tudor King Henry VII in 1489. It gets its name from that first mintage which depicts the monarch seated majestically on the throne facing outward. The current design type with St. George slaying a dragon on the reverse and the monarch on the front was introduced nearly 200 years ago in 1816 under George III.